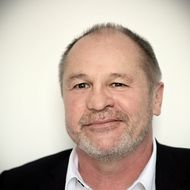 OpenPDM COLLABORATE offers customized solutions for the automated provision and synchronization of PLM and CAD data in joint ventures and other long-term collaboration scenarios.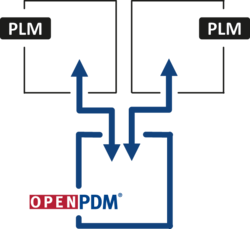 When collaborating within the framework of long-term partnerships, the current status of development needs to be synchronized at regular intervals. OpenPDM COLLABORATE automates the export of PLM and CAD data from the backend systems. During export, partner-specific data formats like PLM XML, STEP, JT and 3D PDF as well as the corresponding structures can be generated automatically.
The import of CAD and PLM structures can also be controlled reliably with the help of the solution. Depending on the configuration involved, the provision of data from one PLM system to another can be automated completely or partially in order to synchronize the delta between the different PLM databases at regular intervals.
OpenPDM COLLABORATE can be adapted flexibly to the requirements of the partners in terms of the frequency of exchange operations, the degree to which the processes are automated and security measures. It is easy to establish relationships between partners and, once collaboration has ended, terminate them.
The solution offers you the following features and benefits:
High level of configurability
OpenPDM COLLABORATE enables the configuration of different collaboration scenarios and allows due consideration to be given to the requirements of the respective partners and the depth of the relationships between partners. The capability of the solution to adapt to enterprise processes allows seamless integration of the data in the PLM systems used by the partners. A tried-and-tested procedural model and many years of experience serve as a guarantee of success.
Maximum flexibility
The support of individual data formats ensures the highest possible degree of flexibility when configuring relationships between partners. New relationships can be established quickly and can be dismantled again quickly once collaboration has ended.
Support for partner-specific data models
OpenPDM COLLABORATE's neutral data model enables automatic adaptation to partner-specific metadata and structured data using freely configurable mapping rules. This means that the collaboration partners can manage third-party data in their own data model and are not forced to introduce third-party structures, designations, etc.
Optimum know-how protection
The selective transfer of CAD and PLM data provides optimum protection of know-how and intellectual property (IPP). At the same time, the end-to-end logging of exchange operations ensures a high level of transparency and allows every action to be traced at any time.
High level of reliability
Transaction security ensures that the solution functions in a stable and reliable manner. The fact that the processes are automated means that there is no need for manual intervention, and the error-prone preprocessing and postprocessing of the data is avoided.
Maximum investment protection
Use of the latest standards (XML, STEP, JT, etc.) and official PLM system interfaces makes the solution compatible with a wide variety of IT environments. Furthermore, the software maintenance and continued development of OpenPDM COLLABORATE provide maximum protection of your investment.